Seward, Alaska Resurrection Bay
4-Hour Resurrection Bay Lowell Point Seward Sea Kayaking Adventure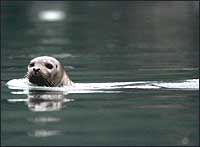 This 4-hours sea kayaking adventure in Seward's Resurrection Bay is ideal for those with limited time. We offer daily departure and 3 departure times to fit just about any travel schedule. Anchorage depature is also available on the 12:30 p.m. trip.
TRIP OVERVIEW Itinerary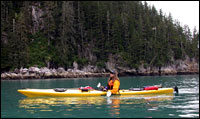 We launch our sea kayaks from Lowell Point and head out to explore the historic Resurrection Bay named by Alexander Baranof, an early Russian Alaska explorer and fur trader.
In 1792 while sailing from Kodiak to Yakutat, Alexander Baranof hit a storm and sought shelter in Resurrection bay. The day was the Russian Sunday of the Resurrection and thus he named the bay Resurrection Bay.
Resurrection Bay was formed as ice receded from the Sargent Icefield and Harding ice field. All that is left of this gigantic tidewater glacier are a number of alpine hanging glaciers that can be seen up on the mountain-rimmed bay, and Exit Glacier, a piedmont glacier that has now receded up the valley so that it is more than 6 miles from the bay's waters edge.
During World War II with Japan's invasion of Attu and Kiska Island on the Alaska Aleutian Islands, Seward and Alaska would see a construction boom with much of Alaska road system being built and the building of the Alaska Railroad. The importance of Seward's Resurrection Bay was soon realized. It was a strategically located ice-free deepwater bay that would become an important supply center for Interior Alaska. Still remaining on the outer edge of the bay are a number of abandoned World War II gun batteries and forts that were build to protect the bay from the invading Japanese Forces.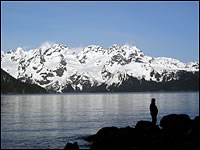 More recently, the opening scene of the film The Hunt for Red October was filmed in Resurrection Bay, with the bay serving as a stand-in for Russia's Murmansk Fjord.
Our 4-hour Resurrection Bay Seward Sea Kayaking adventure will take us out to Tonsina Point's ghost forest, a remnant of the 1964 earthquake. Alaska's 1964 earthquake was the largest quake recorded in North America. The ground at Tonsina Point sank exposing the tree roots to saltwater, killing the trees but preserving the standing trees. If the tides are right we might be able to paddle up into the month of Tonsina Creek to see the spawning salmon.
While exploring Resurrection Bay our naturalist guides will share the rich national history with you while viewing the jagged cliffs, seabirds, marine wildlife and alpine glaciers. Often seen are sea otters, sea lions, harbor seals, seabirds, bald eagles, jumping salmon and occasionally we see whales that venture into the bay.
ITINERARY **
Trip Planning - Getting To Seward, Alaska is just 125 miles south of Anchorage. You can reach Seward by road or on the Alaska Railroad's Coastal Classic Train. If you need help with transportation Backcountry Safaris would be happy to package bus or Alaska Railroad transportation to Seward as well as overnight lodging in Seward if needed.
A Backcountry Safaris host will pick you up at your hotel about 15 minutes prior to departure time.
After arriving at Lowell Point our guides will outfit you with a dry suit, boots, gloves, rain hat, and life jacket. We will also provide a dry bag for your camera if needed to help keep your camera dry between shots.
After a short kayaking instructions from our guides we will head out to explore Resurrection Bay. About halfway into the trip we will make a quick stop on the beach for you to stretch your legs and for hot drinks and a snack.
After returning our host will return you to your hotel, say goodbye and wish you good journeys on the rest of your Seward adventures.
Backcountry Safaris
P.O. Box 1397 Seward, Alaska USA 99664
1-907-222-1632 or toll-free 1-877-812-2159

**Tour Itineraries:
Backcountry Safaris and other tour operators that we work with strive to give you a high quality Alaska experience. The tour itinerary shown on our web page is an example tour itinerary. The actual tour itinerary may vary some due to weather, safety, guest abilities and other conditions. Backcountry Safaris and other independent tour contractors reserve the right to change the tour itinerary and/or make substitutions at any time and without prior notice or to cancel all or part of any tour in its reasonable discretion, for the safety of its participants or due to insufficient number of participants signing up for a tour, because of weather, for the comfort and well being of our guests, for any other conditions that might affect the quality of tour, or as deemed necessary by the tour operator or trip leader.
Limitations of liability:
Although every precaution is taken to safeguard you and your belongings, our adventure trips involve inherent risks and dangers which are beyond our control and Backcountry Safaris shall assume no responsibility for personal injuries or deaths and loss of personal property. Due to the nature of the activities, a condition of your participation is that you will read and sign the acknowledgment and Release of Liability before the tour begins. A copy of the text is available on request.