| | |
| --- | --- |
| | |
| • | SEWARD KENAI FJORDS PARK |
| | Whale Watching Glacier Cruises |
| | Seward Activities and Tours |
| | Seward Hotels and Lodging |
| | |
| • | DENALI NATIONAL PARK |
| | Denali Activities and Tours |
| | Denali Hotels and Lodging |
| | |
| • | BEAR VIEWING TRIPS |
| | |
| • | ALASKA RAFT TRIPS |
| | |
| • | ARCTIC WILDLIFE REFUGE |
| | |
| • | ALASKA TRANSPORTATION |
| | Alaska Railroad |
| | Alaska Bus Service |
| | Cruise Ship Transportation |
| | |
| • | ALASKA LODGING |
| • | ALASKA NATIONAL HISTORY |
| | |
| | |





| | |
| --- | --- |
| | |

We offer Alaska raft trips that offer scenic views, wildlife viewing, fishing, and whitewater.

Custom group Alaska rafting adventures are available on request. If have interested in something special or participating in an exploratory expedition, please contact us with your ideals or to see what plans are being made.

Kongakut River - 10 day Arctic National Wildlife Refuge Rafting Safari. Explore Alaska's remote Arctic National Wildlife Refuge (ANWR) by raft on the "river of caribou". Our trip coincides with the annual migration of the 130,000-strong Porcupine caribou herd and passes through some of the world's most pristine wilderness.

Lake Creek - 7 day Whitewater Rafting and Fishing Adventure. Our favorite fly-in wilderness adventure river, great combination exciting whitewater and great Alaska fishing. Lake Creek offers almost continuous Class II/III whitewater with a few Class IV rapids, five species of salmon, rainbow trout and arctic grayling.

Chulitna River - 4 day Denali Raft Adventure. An excellent family adventure and sampling of Alaska's best wilderness and geography at a casual pace. We travel through Denali State Park, upper Susitna Valley and take out near Trapper Creek, a historic gold mining town.

Aialik Bay (pronounced eye-Al-ick) - Kenai Fjords National Park
5-Day Kenai Fjords Sea Kayaking Package Departing From Anchorage


Our 5-day Aialik Bay sea kayaking adventure allows Alaska travelers with one week vacation time to still enjoy the pristine beauty of Kenai Fjords National Park and have a couple of days left to explore other parts of Alaska or as an option to continue on to our Denali National Park Adventure.
This 5-day sea kayaking package combines pre and post trip transportation to and from Seward and lodging in Seward with our 3-day Aialik Bay sea kayaking trip.
Aialik Bay is a spectacular Alaska sea kayaking paradise, with an abundance of wildlife and tidewater glaciers flowing into its bays. A wide variety of wildlife and marine birds call Aialik Bay home. We often see pods of killer whales, humpback whales, harbor seals, sea otters, black bears, mountain goats, bald eagles, the endangered Steller sea lion, and a variety of marine birds, including puffins. You'll see a tidewater glacier, and hear the cracking and thunderous booms as it flows and calves into the ocean. Our experienced sea kayaking guides are here to make this 5-day wilderness sea kayaking adventure the highlight of your Alaska vacation. Visit our Aialik Bay Photo Album.
Compare The Differences
You'll see why Backcountry Safaris is your best choice.
Your Custom Sea Kayaking Package Includes

ITINERARY **
Arrival - Fly into Anchorage International Airport. Plan to arrive at least one day before your kayak trip departure date. Anchorage offers many fine hotel and bed and breakfast lodging options. We can provide you a list of recommended lodging options or include hotel lodging in Anchorage with your tour package. If you would like us to include hotel lodging in Anchorage with your sea kayaking tour package just let us know.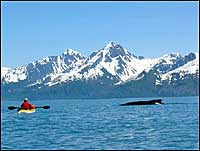 Day 1 - Your adventure starts with a scenic train ride on the Alaska Railroad Coastal Classic Train to Seward. The train follows the Seward Highway along Turnagain Arm for about 50 miles before heading into the mountains. The Seward Highway has been designated an All-American Road, USDA Forest Service Scenic Byway, and Alaska Scenic Byway. Turnagain Arm has tides with the second greatest fluctuation in North America, varying more than 40 feet. Beluga whales and Dall sheep are frequently seen along this section of Turnagain Arm.
Leaving Turnagain Arm the train heads up into the Kenai Mountains towards Grandview Valley where you'll travel through lush spruce and birch forests. Keep your eyes open for the occasional moose along the railroad and to see the many hanging glaciers. There's Bartlett Glacier, Trail Glacier, and Spencer Glacier, which stands out as one of the most beautiful glaciers along the southern railbelt. You arrive in Seward around noon.
You'll have an opportunity to freshen up before heading out on your own to explore the small maritime community of Seward. Activities you may want to consider include: a walking tour of Seward to visit the many shops; a harbor and sea wall walk; Guided Ice Climbing Adventure, museum, or maybe a fishing trip. Ask our travel host about making arrangements for these special side excursions. Seward has many coffee houses and restaurants to choose from for lunch (on your own).
You can also visit the Alaska SeaLife Center. The Alaska SeaLife Center is a non-profit marine science facility. The center's research facilities and naturalistic exhibits immerse visitors in the dynamic marine ecosystems of Alaska and provide opportunities to watch animals in naturalistic habitats as well as research settings.
Dinner (on your own) at one of the local Seward restaurants. Around 6:00 p.m. one of our guides will meet you at the hotel for a pre-trip meeting. Tonight will get you outfitted with rain gear, rubber boots and dry bags to pack your gear. Also, our guide will answer any last-minute trip questions you may have.
Day 2 - Breakfast on your own. Our guides will pick you at the hotel at 7:00 a.m. and with team effort we will load our sea kayaks and gear onto an ocean charter vessel for a 4-hour marine wildlife and glacier cruise to our first camp. Along the way, we round Cape Aialik, pass Caines Head, Bear Glacier, and a Stellar sea lion haulout. We'll set up camp, then devote the rest of the day to sea kayak safety and instruction as we paddle around our new environment.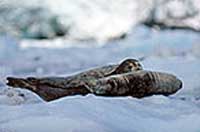 Day 3 - Today we paddle up to face of Aialik Glacier and take a long lunch break to watch the glacier calve and watch the seals playing on the icebergs. After lunch we head for Pedersen Lagoon, which is used by harbor seals to escape from orca whales. A beautiful glacier empties into an upper lagoon filling it with massive icebergs. This area is teeming with wildlife including bears, eagles, waterfowl, shorebirds, sea otters and harbor seals. Wolves and coyotes have also been reported in this area.

Day 4 - We break camp early morning and head out of Pederson lagoon to meet our charter boat for our ride back to Seward. Our shuttle driver will meet us at the dock and take you to back to your hotel.
Day 5 - Breakfast on your own. Meet the bus at 9:45 a.m. for your trip back to Anchorage. Along the way you will pass through dramatic valleys of the Kenai Mountains and keep a watch out for bald eagles, beluga whales and Dall sheep on this National Scenic Byway. You will arrive in Anchorage around 1:30 p.m.
For those that are continuing on to Denali National Park, you'll have about a 90 minute lunch stop at the Anchorage Museum of History and Fine Arts before continuing on to Denali.
Backcountry Safaris
P.O. Box 1397 Seward, Alaska USA 99664
1-907-222-1632 or toll-free 1-877-812-2159

**Tour Itineraries:
Backcountry Safaris and other tour operators that we work with strive to give you a high quality Alaska experience. The tour itinerary shown on our web page is an example tour itinerary. The actual tour itinerary may vary some due to weather, safety, guest abilities and other conditions. Backcountry Safaris and other independent tour contractors reserve the right to change the tour itinerary and/or make substitutions at any time and without prior notice or to cancel all or part of any tour in its reasonable discretion, for the safety of its participants or due to insufficient number of participants signing up for a tour, because of weather, for the comfort and well being of our guests, for any other conditions that might affect the quality of tour, or as deemed necessary by the tour operator or trip leader.
Limitations of liability:
Although every precaution is taken to safeguard you and your belongings, our adventure trips involve inherent risks and dangers which are beyond our control and Backcountry Safaris shall assume no responsibility for personal injuries or deaths and loss of personal property. Due to the nature of the activities, a condition of your participation is that you will read and sign the acknowledgment and Release of Liability before the tour begins. A copy of the text is available on request.

Overview
Tour Type:
Sea Kayaking, Wildlife Viewing, Camping, Alaska Railroad
Difficulty:
Moderate
Comfort:
Hotel, Tent Camping
Prior Experience:
None
2013 Tour Dates
Form your own group for a group discount and choose any departure date or choose from one of our scheduled tour dates.

May 2 - May 6
June 2 - June 6
June 9 - June 13
June 16 - June 20
June 23 - June 27
June 30 - July 4
July 7 - July 11
July 14 - July 18
July 21 - July 25
July 28 - August 1
August 4 - August 8
August 11 - August 15
August 18 - August 22
August 25 - August 29
Tour Rates
Rates are based on shared hotel room with 2 double beds.
Solo Traveler:
$1650 each plus tax
Two Travelers:
$1460 each plus tax
Three Travelers:
$1395 each plus tax
Four Travelers:
$1370 each plus tax
Additional savings is available by choosing optional hostel dormitory style accommodation in Seward.

On payment of your deposit to Backcountry Safaris, you agree to be bound by Backcountry Safaris tour terms and conditions.
Complete Tour, Reservation and Payment Terms are located here.
Prices are subject to change without notice.
Optional Tours And Upgrades
Maps
Related Links and Natural History
Suggested Alaska Reading List
Kenai Fjords Historic Resource Study
(online book) by Linda Cook and Frank Norris
Exploring Alaska's Kenai Fjords
by David Miller
Kenai Fjords Park - Trails Illustrated Map
Alaska: A Novel
by James A. Michener
Alaska: A History of the 49th State
by Claus-M Naske and Herman E. Slotnick
Guide to the Birds of Alaska
by Robert H. Armstrong
Wild Flowers of the Yukon, Alaska
by John G. S. Trelawny
Coming into the Country
by John McPhee
Travels in Alaska
by John Muir
Kenai Fjords Weather
Current Seward, AK Weather

Did You Know?
With 570,374 square miles, Alaska is twice the size of Texas and 1/5 the size of the rest of the United States. It stretches 2,400 miles east-to-west and 1,420 miles north-to-south. Its 6,640-mile coastline is 50 percent longer than the combined east and west coasts of the United States.