| | |
| --- | --- |
| | |
| • | SEWARD KENAI FJORDS PARK |
| | Whale Watching Glacier Cruises |
| | Seward Activities and Tours |
| | Seward Hotels and Lodging |
| | |
| • | DENALI NATIONAL PARK |
| | Denali Activities and Tours |
| | Denali Hotels and Lodging |
| | |
| • | BEAR VIEWING TRIPS |
| | |
| • | ALASKA RAFT TRIPS |
| | |
| • | ARCTIC WILDLIFE REFUGE |
| | |
| • | ALASKA TRANSPORTATION |
| | Alaska Railroad |
| | Alaska Bus Service |
| | Cruise Ship Transportation |
| | |
| • | ALASKA LODGING |
| • | ALASKA NATIONAL HISTORY |
| | |
| | |





Alaska
Rafting
Trips

We offer Alaska raft trips that offer scenic views, wildlife viewing, fishing, and whitewater.

Custom group Alaska rafting adventures are available on request. If have interested in something special or participating in an exploratory expedition, please contact us with your ideals or to see what plans are being made.

Kongakut River - 10 day Arctic National Wildlife Refuge Rafting Safari. Explore Alaska's remote Arctic National Wildlife Refuge (ANWR) by raft on the "river of caribou". Our trip coincides with the annual migration of the 130,000-strong Porcupine caribou herd and passes through some of the world's most pristine wilderness.

Lake Creek - 7 day Whitewater Rafting and Fishing Adventure. Our favorite fly-in wilderness adventure river, great combination exciting whitewater and great Alaska fishing. Lake Creek offers almost continuous Class II/III whitewater with a few Class IV rapids, five species of salmon, rainbow trout and arctic grayling.

Chulitna River - 4 day Denali Raft Adventure. An excellent family adventure and sampling of Alaska's best wilderness and geography at a casual pace. We travel through Denali State Park, upper Susitna Valley and take out near Trapper Creek, a historic gold mining town.

Alaska SeaLife Center


A Kenai Fjords Whale Watching Glacier Cruise would make great complement Seward tour to see marine wildlife in the wild.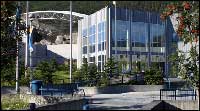 The Alaska SeaLife Center is a non-profit marine science facility dedicated to understanding and maintaining the integrity of the marine ecosystem of Alaska through research, rehabilitation and public education. The Center's research facilities and naturalistic exhibits immerse visitors in the dynamic marine ecosystems of Alaska and provide opportunities to watch animals in naturalistic habitats as well as research settings. Alaska SeaLife Center Aquarium Tour Map
Suggested tour package. Departing from Anchorage 1 Day Seward SeaLife Center Tour. Anchorage to Seward on the Alaska Railroad. Visit the Alaska SeaLife Center. Return to Anchorage by bus. Call or email for more information.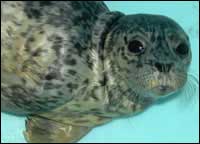 The Alaska Sea Life Center offers an unrivaled, up-close and personal experience with Gulf of Alaska marine wildlife. Witness a 2000+ pound Steller sea lion gliding past underwater viewing windows, puffins diving in a carefully crafted naturalistic habitat, and harbor seals resting on rocky beaches. Alaskan king crab, sea stars, and the Giant Pacific octopus also await you, as well as a whole variety of intertidal creatures and deep sea fishes.
Getting To The Alaska SeaLife Center
The Alaska SeaLife Center is located in spectacular Seward, Alaska, just 125 miles south of Anchorage. You can reach Seward by road or Backcountry Safaris would be happy to add bus or transportation on the Alaska Railroad to Seward as well as overnight lodging in Seward with your Alaska SeaLife Center visit.
Related Seward and Kenai Fjords National Park Links
---
Behind The Scene Guided Sea Life Center Tours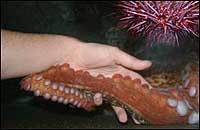 Behind the Scenes Tour
Go beyond the public exhibit areas of the Center and take advantage of the unique opportunity to investigate the different labs where scientists conduct research. You will get an in-depth perspective on the Center's past and ongoing marine wildlife research and rehabilitation projects.
Puffin Encounter Tour
Help feed our seabirds inside their avian habitat while learning interesting facts about our flock of seabirds, including our favorite diving birds, the Tufted Puffin and Horned Puffin.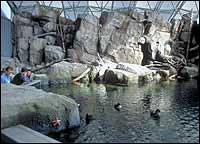 Octopus Encounter Tour
Learn about the unique anatomy and behavior of the Giant Pacific Octopus as you get an up-close and personal experience with this mysterious animal.
Marine Mammal Encounter Tour
Go behind the mammal exhibits with one the Alaska SeaLife Center's mammologists to discover how they communicate with the SeaLife Center's mammal residents. Learn about the fun activities the keepers do with mammal residents. Get a sneak peek behind the scenes and the SeaLife Center's exhibits.

Overview and Rates
The Alaska SeaLife Center is open 7 days a week, year round, and closed Thanksgiving Day and Christmas Day.
Daily passes can be purchased at the entrance.
Under age 3:
Free
Child age 4-11:
$10 each plus tax
Student age 12-17:
$15 each plus tax
Adult:
$20 each plus tax
Extra fees for added Alaska SeaLife tours.
Behind the Scenes Tours, Puffin Encounter, Octopus Encounter, Marine Mammal Encounter.
Related Tour Links
Kenai Fjords Related Links
Alaska Sea Life
•

Steller Sea Lion


The Steller sea lion lives in the north Pacific Ocean and is the largest eared seals. Sea lions differ from other seals because they have external ears and rear flippers which turn forward allowing them to "walk" with a gait similar to land mammals.
•

Harbor Seal


The harbor seal is found widely in both the north Atlantic and Pacific oceans and is widely found in coastal areas of Alaska. An average adult weighs around 180 pounds, compared to upwards of 1200 pounds for a male Stellar sea lion. Harbor seals compete with commercial fishermen in Alaska for salmon.
•

Alaska King Crabs


King crabs have five pairs of legs - the first right claw is usually the largest. A red king crab can live 20 to 30 years and may grow to 10 to 20 pounds. The leg span of a large king crab is nearly 5 feet across.
•

Giant Pacific Octopus


The giant Pacific octopus is found in nearly all Alaskan waters. Most of the octopus caught in Alaska is primarily incidentally caught while fishing for other species and some is then used for bait in the halibut and cod fisheries. The giant Pacific octopus is able to solve mazes very quickly and unscrew jar lids to retrieve food inside the jar - obviously an intelligent creature! They can grow to 600 pounds but most range between 50 and 90 pounds.
•

Puffins


Horned and tufted puffins are the most popular Alaska seabirds and are easy to recognize with their large colorful bills and comical looks, especially after you see dozens of them depicted on t-shirts and as stuff toys in the local gift shops. The SeaLife Center offers a wonderful opportunity to see puffins "flying" under water and is a highlight of any visit to the Center.
•

Wildlife Notebook Series


Want to learn more about Alaska's wildlife? The Alaska Department of Fish and Game's Wildlife Notebook Series web site is a great place to start.
Suggested Alaska Reading
Kenai Fjords Historic Resource Study
(online book) by Linda Cook and Frank Norris
Exploring Alaska's Kenai Fjords
by David Miller
Kenai Fjords Park - Trails Illustrated Map
Alaska: A Novel
by James A. Michener
Alaska: A History of the 49th State
by Claus-M Naske and Herman E. Slotnick
Guide to the Birds of Alaska
by Robert H. Armstrong
Wild Flowers of the Yukon, Alaska
by John G. S. Trelawny
Coming into the Country
by John McPhee
Travels in Alaska
by John Muir
Kenai Fjords Weather
Current Seward, AK Weather