| | |
| --- | --- |
| | |
| • | SEWARD KENAI FJORDS PARK |
| | Whale Watching Glacier Cruises |
| | Seward Activities and Tours |
| | Seward Hotels and Lodging |
| | |
| • | DENALI NATIONAL PARK |
| | Denali Activities and Tours |
| | Denali Hotels and Lodging |
| | |
| • | BEAR VIEWING TRIPS |
| | |
| • | ALASKA RAFT TRIPS |
| | |
| • | ARCTIC WILDLIFE REFUGE |
| | |
| • | ALASKA TRANSPORTATION |
| | Alaska Railroad |
| | Alaska Bus Service |
| | Cruise Ship Transportation |
| | |
| • | ALASKA LODGING |
| • | ALASKA NATIONAL HISTORY |
| | |
| | |





Alaska
Rafting
Trips

We offer Alaska raft trips that offer scenic views, wildlife viewing, fishing, and whitewater.

Custom group Alaska rafting adventures are available on request. If have interested in something special or participating in an exploratory expedition, please contact us with your ideals or to see what plans are being made.

Kongakut River - 10 day Arctic National Wildlife Refuge Rafting Safari. Explore Alaska's remote Arctic National Wildlife Refuge (ANWR) by raft on the "river of caribou". Our trip coincides with the annual migration of the 130,000-strong Porcupine caribou herd and passes through some of the world's most pristine wilderness.

Lake Creek - 7 day Whitewater Rafting and Fishing Adventure. Our favorite fly-in wilderness adventure river, great combination exciting whitewater and great Alaska fishing. Lake Creek offers almost continuous Class II/III whitewater with a few Class IV rapids, five species of salmon, rainbow trout and arctic grayling.

Chulitna River - 4 day Denali Raft Adventure. An excellent family adventure and sampling of Alaska's best wilderness and geography at a casual pace. We travel through Denali State Park, upper Susitna Valley and take out near Trapper Creek, a historic gold mining town.

Alaska SeaLife Center Aquarium Map


Your Alaska SeaLife Center Tour starts on the second floor. Back to the Alaska SeaLife Center Tour page.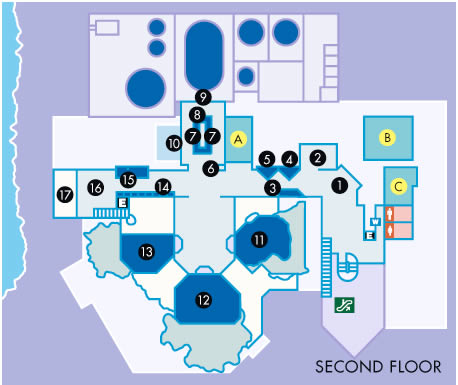 Second Floor
Encounter Video - A repeating 3.5-minute film sets the tone for your visit with a series of images about Alaska's marine ecosystem.

Changing Exhibit

- Special exhibits provide an opportunity to learn more about Alaska's marine animals.

Open Waters

- Some of the most commercially important species of fish in the world live in these deep waters.

Ocean Grazers

- Sometimes the small, overlooked creatures that graze the ocean's pastures are the most fascinating.

Kelp Forest

- Thick seaweed and rocky terrain provide a home for colorful rockfish, anemones, and other shallow water dwellers.

Research on Display

- Explore the Center's research projects at this interactive computer kiosk.

Discovery Pool

- How will a sea star react to your touch? Which animals feel spiky and which are soft-bodied? Enjoy a close encounter with sea creatures in open pools.

Featured Creature

- A special small marine animal display provides up-close viewing.

Research Deck Overlook

- Animals involved in research projects or rehabilitation efforts may be housed in pools on the Research Deck. Housing animals here provides staff easy access from first floor laboratories.

Wet Lab Overlook

- Watch scientists and staff work on important research projects.

Seabird Habitat

The seabird exhibit has the deepest of all seabird pools (21 feet) in the U.S. Come close and get a "bird's-eye" view of Tufted Puffins, Common Murres, Red legged Kittiwakes, and Pigeon Guillemots that live and breed in the 105,000 gallon exhibit. Several species of reef fish swim among the rocks.

Steller Sea Lion Habitat

- Watch sea lions swim and sun themselves on the rocks in the 162,000 gallon habitat that resembles sea lion haul-outs found in Resurrection Bay.

Harbor Seal Habitat

- The harbor seal habitat resembles the rocky coastline with ample spaces for seals to sun themselves. The outdoor acrylic windows allow you to see the seals up close in their 90,000 gallon habitat.

A Closer Look

- A series of small aquariums show the wealth of less conspicuous marine creatures found along the coastline from the intertidal zone to the sea bottom.

Salmon Stream

- Learn the life cycle of Alaska's salmon.

Chiswell Island Interactive Rookery

- View LIVE video from a Steller sea lion rookery 35 miles south of Seward, and use a touch screen program to learn more about Steller research made possible by this cutting-edge technology.

Resurrection Bay Overlook

- Look for sea lions, sea otters, whales and other birds and animals in their natural habitat right outside the Center.
Back to the Alaska SeaLife Center Tour page.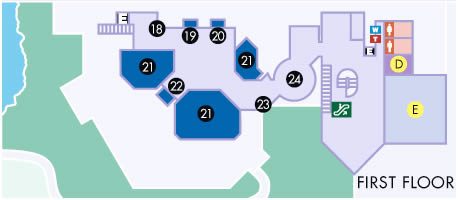 First Floor
Pacific "Giant" Squid

- Meet Alaska's largest squid species in the safest way possible!

Harbor Bottom Life

- See what dwells beneath the boats in Seward's harbor, where fish and invertebrates make their homes among the pilings.

Deep Gulf

- Home to Alaska king crabs and other mysterious creatures of the deep.

Windows to the Sea Underwater Viewing Gallery

- Watch seabirds, sea lions, and harbor seals swim just inches away from you.

Denizens of the Deep

- Rocky caves in dark, cold water make a perfect habitat and hiding place for octopuses and other marine animals.

Exxon Valdez Oil Spill: The Continuing Legacy

- Hear the latest information on wildlife affected by the 1989 oil spill at this audio exhibit.

Exit Video

- Sit down and enjoy a video about Steller sea lions or Alaskan animals.
Back to the Alaska SeaLife Center Tour page.
Related Seward and Kenai Fjords National Park Links

Overview and Rates
The Alaska SeaLife Center is open 7 days a week, year round, and closed Thanksgiving Day and Christmas Day.
Daily passes can be purchased at the entrance.
Under age 3:
Free
Child age 4-11:
$10 each plus tax
Student age 12-17:
$15 each plus tax
Adult:
$20 each plus tax
Extra fees for added Alaska SeaLife tours.
Behind the Scenes Tours, Puffin Encounter, Octopus Encounter, Marine Mammal Encounter.
Related Tour Links
Kenai Fjords Related Links
Alaska Sea Life
•

Steller Sea Lion


The Steller sea lion lives in the north Pacific Ocean and is the largest eared seals. Sea lions differ from other seals because they have external ears and rear flippers which turn forward allowing them to "walk" with a gait similar to land mammals.
•

Harbor Seal


The harbor seal is found widely in both the north Atlantic and Pacific oceans and is widely found in coastal areas of Alaska. An average adult weighs around 180 pounds, compared to upwards of 1200 pounds for a male Stellar sea lion. Harbor seals compete with commercial fishermen in Alaska for salmon.
•

Alaska King Crabs


King crabs have five pairs of legs - the first right claw is usually the largest. A red king crab can live 20 to 30 years and may grow to 10 to 20 pounds. The leg span of a large king crab is nearly 5 feet across.
•

Giant Pacific Octopus


The giant Pacific octopus is found in nearly all Alaskan waters. Most of the octopus caught in Alaska is primarily incidentally caught while fishing for other species and some is then used for bait in the halibut and cod fisheries. The giant Pacific octopus is able to solve mazes very quickly and unscrew jar lids to retrieve food inside the jar - obviously an intelligent creature! They can grow to 600 pounds but most range between 50 and 90 pounds.
•

Puffins


Horned and tufted puffins are the most popular Alaska seabirds and are easy to recognize with their large colorful bills and comical looks, especially after you see dozens of them depicted on t-shirts and as stuff toys in the local gift shops. The SeaLife Center offers a wonderful opportunity to see puffins "flying" under water and is a highlight of any visit to the Center.
•

Wildlife Notebook Series


Want to learn more about Alaska's wildlife? The Alaska Department of Fish and Game's Wildlife Notebook Series web site is a great place to start.
Suggested Alaska Reading
Kenai Fjords Historic Resource Study
(online book) by Linda Cook and Frank Norris
Exploring Alaska's Kenai Fjords
by David Miller
Kenai Fjords Park - Trails Illustrated Map
Alaska: A Novel
by James A. Michener
Alaska: A History of the 49th State
by Claus-M Naske and Herman E. Slotnick
Guide to the Birds of Alaska
by Robert H. Armstrong
Wild Flowers of the Yukon, Alaska
by John G. S. Trelawny
Coming into the Country
by John McPhee
Travels in Alaska
by John Muir
Kenai Fjords Weather
Current Seward, AK Weather