Unique Opportunity
Alaska Lighthouse Tour
8-Day Custom Small Boat Inside Passage Alaska Cruise
Alaska photo tour of a lifetime
Small tour boat for up-close views
Travel during daylight hours so as not to miss anything
9 Alaska Lighthouses
Wildlife
Whale Watching
Tidewater Glaciers
Visit 5 Alaska towns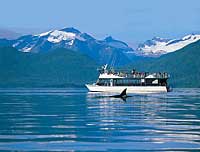 Explore Alaska's Inside Passage from Ketchikan to Haines. Travel distance is about 630 miles along Alaska's Inside Passage aboard a custom made 79 passenger catamaran-style boat built with large windows for optimal viewing from any seat, as well as a spacious upper observation deck where can enjoy being outdoors and have unobstructed views.
Along the way you'll see 9 Alaska Lighthouses, explore scenic coastal destinations, see Alaska marine and coastal wildlife, enjoy whale watching, view calving tidewater glaciers, learn about Alaska native culture, visit 5 Alaska towns, and much, much more.
ITINERARY **
May 13-15
Ketchikan

Arrive in Ketchikan on May 13. Spend 2 nights in Ketchikan. Ketchikan International Airport is located on Gravina Island. On arrival at the Ketchikan Airport you will need to take the Airport Ferry across the Tongass Narrows into town. The ferry leaves the airport on the hour and half hour. The fare is $5.00.

Spend time exploring Ketchikan. Ketchikan is known as the "Salmon Capital of the World." and has the world's largest collection of standing totem poles which are found throughout the city.
May 14
Totem Heritage Center, Totem Museum

About a 1 1/2 mile round-trip walk. Totem Heritage Center houses the world's largest collection of nineteenth century poles. The Totem Heritage Center was established in 1976 to preserve endangered 19th century totem poles retrieved from uninhabited Tlingit and Haida village sites near Ketchikan. Those magnificent original poles are displayed at the Center in conjunction with other totems and Native Alaskan artifacts.
Deer Mountain Tribal Hatchery and Eagle Center
Visit the Deer Mountain Hatchery and Eagle Center for a narrated tour of the hatchery facility and Eagle Compound. Currently the Eagle Center has ten educational and display birds. All birds at the Eagle Center are permanent residents, as these animals cannot survive in the wild due to injuries or human imprinting. Current residents include 3 Bald Eagles, 1 Golden Eagle, 2 Great-Horned Owls, 2 Red-Tailed Hawks, 1 Peregrine Falcon, and 1 Turkey Vulture. Some of the birds are on display to view and photograph, and others are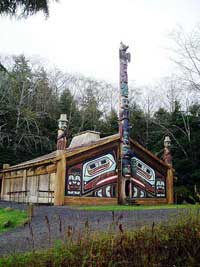 used specifically in educational programs. All of the birds are unique and have individual aspects of their lives that make the natural history of each species a cornerstone.
Saxman Native Village Tour
Saxman Native Village Tour takes you to a real Native Village just outside of Ketchikan where you will see the world's largest collection of standing Totem Poles, a Carving Shed and a Native Clan House. View Native carvers as they create new totem poles out of red cedar. Your guide will share stories and legends of the totem poles (some over 100 years old) while you stroll through the park and view a traditional Beaver Clan House where Alaska Natives would have lived and celebrated. Our tour takes you on an easy beautiful scenic walk through the woods and down to the beach, which often includes sightings of Bald Eagles nesting and other Alaskan wildlife.
Historic Red Light District "Creek Street"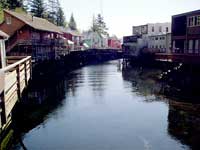 The Historic Creek Street is known as Ketchikan's old red-light district. In the mid 1920's, Ketchikan's number one industry was prostitution. There were over 20 bawdy houses on Creek Street. Your guide will talk about the ladies of the night of years ago. You'll then have the opportunity to go through world famous Dolly's House Museum.
May 15
Cruise Ketchikan to Petersburg
Today cruise from Ketchikan to Petersburg about 215 miles stopping at scenic spots and for wildlife and whale sightings. Along the way we'll also see one lightship and 3 Alaska lighthouses.
Lightship Umatilla WLV-196
The Lightship Umatilla WLV-196 was built in Bay City, Michigan in 1946 and is the only Umatilla Lightship whose current location is known. WLV-196 disappeared until it was spotted in Ketchikan, Alaska in 2000. The ship no longer bears the name Umatilla, but rather Marine Bio Researcher. The ship is currently owned by Jim Faro, owner of Southeast Stevedoring, and has reportedly been used as barracks for crews working in the logging industry.
Mary Island Lighthouse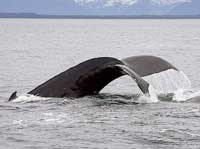 The Mary Island Lighthouse was lit for the first time on July 15, 1903. The wooden lighthouse was in service a little over 30 years. Between 1936 and 1938 a new lighthouse was built of reinforced concrete. The new tower was square and displayed the light at a height of 76 feet above the water. The base of the tower is connected to a flat-roofed building which housed air compressors and electric generators on its main floor, and fuel, supplies and a heating plant in its basement. In 1969 Mary Island Lighthouse was automated and personnel were removed.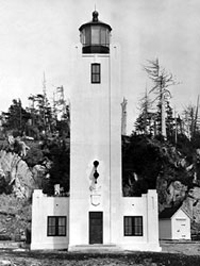 Tree Point Lighthouse
Tree Point Lighthouse was activated on April 30, 1904. The original was replaced by a reinforced concrete tower in 1935 and consisted of a one-story eighteen by thirty-six foot building attached to an thirteen-foot-square tower that rises to the height of fifty-eight feet. Coast Guard personnel were removed from the station in 1969, and the beacon was reduced to a minor light.
Guard Island Lighthouse
Guard Island Lighthouse was activated on September 15, 1904. In 1924 the light tower was replaced with a new single-story rectangular tower of reinforced concrete. Deactivated on July 31, 1960.
Wrangle Narrows

The Wrangell Narrows is a winding 22 mile channel between Mitkof Island and Kupreanof Island. There are about 60 lights and buoys lighting up the passage like a Christmas tree and marking this winding navigation hazard. You'll want to be outside on the deck with your camera to photograph this interesting shallow narrow passage.
May 15-16
Petersburg
Overnight in Petersburg. Petersburg has a vibrant Norwegian heritage that is reflected in the town's characteristics, local cuisine and festivals. Petersburg was named after Peter Buschmann, a Norwegian immigrant who built a cannery, sawmill, docks and early Petersburg structures. Petersburg flourished as a fishing port. His colony grew into Petersburg populated largely by people of Scandinavian origin thus giving Petersburg the nickname "Little Norway".
May 15
Option - Cape Decision Lighthouse
Optional add-on - helicopter flight seeing to Cape Decision Lighthouse.
May 16
Cruise Petersburg to Juneau
Today we'll cruise from Petersburg to Juneau about 210 miles. We'll explore Frederick Sound, home to one of the world largest whale population. See Tracy Arm, an ice-carved fjord, and get up-close views of the calving tidewater glaciers, North Sawyer and South Sawyer Glaciers. En route see 1 Alaska Lighthouse.
Frederick Sound Whale Watching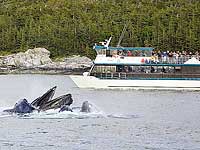 Frederick Sound has one of the biggest whale populations in the world. Approximately 500 humpback whales come into Frederick Sound area during the summer feeding season. They are after the very abundant krill and herring. Also often seen are Orcas whales, endangered Steller sea lions, harbor seals, and Dall's porpoise.
Five Finger Lighthouse
The Five Finger Lighthouse was lit on March 1, 1902, one of the two lighthouses to begin service that date. This station operated for 21 years before the lighthouse building burned to the ground in 1933 and was replaced with a temporary light. The new lighthouse, built 10 feet away from the original lighthouse, was completed in 1935. There are still two original 1902 buildings remaining at this light station.
Tracy Arm Fjords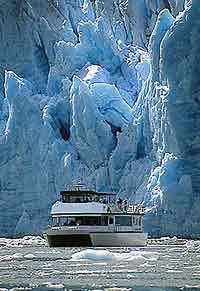 Tracy Arm Fjords is ranked No.1 on TripAdvisor among 22 attractions in Juneau area.
On our way to North and South Sawyer Glaciers (tidewater glaciers), we will explore the full length of this ice-carved fjord tracing the face of cliffs that rise 4000-feet above the jade-colored sea, as the onboard naturalist provides a wealth of information about the area. Go on deck to breathe in the glacier-fresh mist as the Captain skillfully guides the vessel almost directly under a plunging waterfall. There will be frequent stops to view wildlife, such as bald eagles, harbor seals, mountain goats and bear.
North and South Sawyer Glacier
Our catamaran style boat offers extraordinary maneuverability which allows us to get close to North Sawyer Glacier, which cannot be approached by larger ships. You'll then cruise slowly past hundreds of seals resting atop recently-calved icebergs in route to a viewing-stop near the face of spectacular South Sawyer Glacier. From the topside observation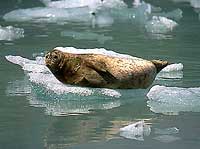 decks you will be able to fully experience the "thundering glacier sounds", as immense spires of ice break from the glacier and crash into the sea.
Only now can you fully appreciate naturalist John Muir's written observation that this is "one of the most dramatically stunning fjords of Southeast Alaska". You will soon depart Tracy Arm Fjord, but the experience will stay fresh in your memories forever.
May 16-19
Juneau, Alaska's Capital City
3 nights in Juneau. The City of Juneau has been the capital of Alaska since 1906, when the District of Alaska government was moved from Sitka as dictated by the U.S. Congress in 1900. The municipality unified on July 1, 1970, when the city of Juneau merged with the city of Douglas and the surrounding Greater Juneau Borough to form the current home rule municipality.
May 17
Round-trip Juneau to Hoonah Cruise
Today we take a round-trip cruise Juneau to Hoonah, about 128. En route see one Alaska Lighthouse. Thrilling ride on the world largest Zip-Line and a visit Orca Point Lodge for an Alaska Salmon Bake.
Hoonah, Icy Strait Point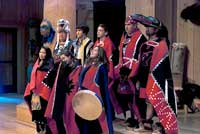 Today we visit Hoonah, a Tlingit native community on Chichagof Island. The Tlingit people settled Hoonah two thousand years ago when they were forced to abandon their original village because of advancing glaciers. The Tlingit were always respectful of their environment -- they lived a subsistence life, surviving off the bountiful waters and lush forest. Many also became very accomplished as weavers, carvers and artists -- developing the unique stylized designs you see throughout Tlingit communities today.
Scenic Mountain Descent on the World's Largest ZipRider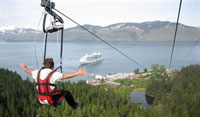 World's largest zip-line: 5,330 feet long. Your adventure begins when you board your bus for the ride to the top the mountain. Your driver will narrate as you pass through the village of Hoonah and then up the mountainside. Once on top you will take a short walk to the launching area. At 1,300 feet above sea level you will sit into a special harness seat and await your launch. On your way down you'll pass 300 feet above the treetops. You will see sweeping views of Port Frederick, Icy Strait and our boat far below on this thrilling ride. Your ZipRide concludes with a brake-activated landing on the beach back at Icy Strait Point. Youtube video Icy Strait Point ZipRider: Worlds Largest Zipline
Orca Point Lodge Salmon Bake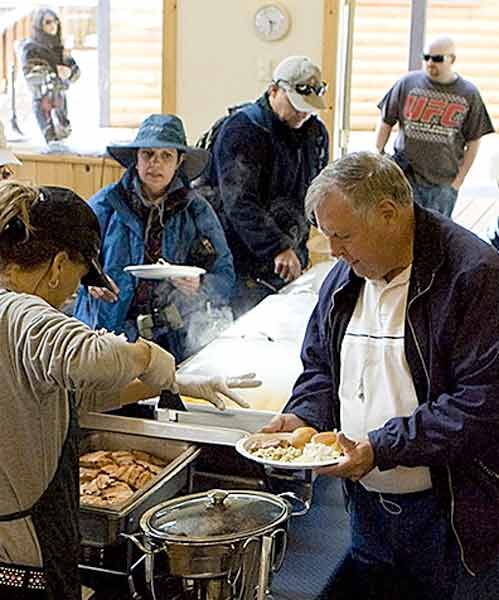 We'll take a leisurely break from cruising to step ashore at beautiful Orca Point Lodge on Colt Island to enjoy a feast that includes grilled wild Alaska salmon, chicken, corn on the cob, rice pilaf, cole slaw, fresh-hot rolls and desserts. The lodge offers peaceful seclusion with modern comforts in a remote wilderness setting. Take a stroll along the beach before the reboarding the catamaran for the return cruise to Juneau.
Point Retreat Lighthouse
The Point Retreat Lighthouse was lit on September 15, 1904, one of ten light station to be constructed by the U.S. Government in the Alaskan Territory. Just before World War I, Point Retreat was stripped of its personnel and downgraded to a minor light. Life, however, returned to the station just a few years later, when a new combination lighthouse and fog signal was built in 1923-24.
May 18
Free day in Juneau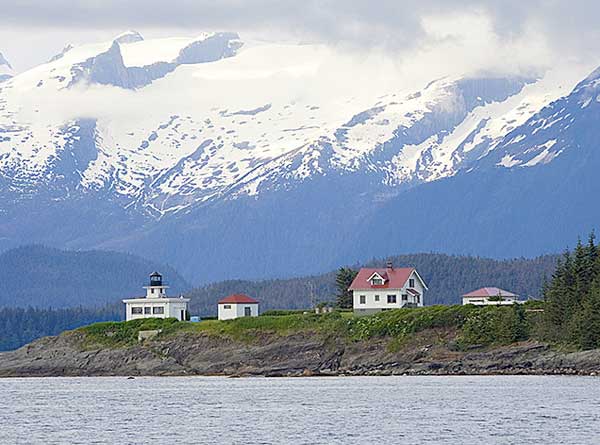 Free day in Juneau, Alaska's Capital City. Walking tours, Museums, shopping, relaxing on your own. Also additional add-on tours will be available on this day for your consideration, fishing, flight seeing, escorted bus city tour, etc.
Option - Cape Spencer Lighthouse
Optional add-on - helicopter flight seeing to Cape Spencer Lighthouse.
May 19
Cruise Juneau to Haines
Today we'll cruise from Juneau to Haines about 80 miles. Along the way we'll also see 3 Alaska lighthouses.
Sentinel Island Lighthouse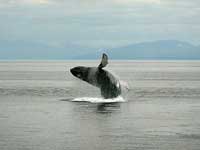 The Sentinel Island Lighthouse was activated on March 1, 1902. Sentinel Island could not stake sole claim as Alaska's first lighthouse as Five Finger Islands Lighthouse, located at the entrance to Stephens Passage some eighty-plus miles south of Juneau, went into service the same day.
Point Sherman Lighthouse
The Point Sherman Light Station was first lit on October 18, 1904. The original light was disestablished and reduced to a minor light shortly before 1917. In 1932, the station was transferred to the Forest Service and replaced by a nearby buoy. A dayboard and a light were placed on the site of the original light in 1981.
Eldred Rock Lighthouse
Activated June 1, 1906, Eldred Rock Lighthouse was the last of the ten lighthouses constructed in Alaska between 1902 and 1906.
Haines
Today while waiting for the small plane shuttle flights to Juneau, you'll have time to explore Haines on foot.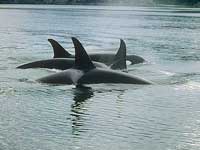 When Alaska was purchased from Russia in 1867 there was a disputed, vaguely defined border located between Canada and the U.S. in the Haines area. The 1898–1899 Klondike Gold Rush changed the region greatly as the population grew to 30,000 people, composed largely of Americans. The sudden importance of the region increased the urgency of fixing an exact boundary. In 1898 the U.S. and Canada governments agreed on a compromise, but the government of British Columbia rejected it. Then the U.S. President McKinley proposed a permanent lease of a port near Haines, but Canada rejected that compromise. In 1903 the Hay-Herbert Treaty entrusted the border decision to arbitration by a mixed tribunal of six members, three American and three Canadian–British, who determined in favor of the United States, resulting in the present-day border.
May 19-20
Juneau
Overnight in Juneau. Trip ends.

Backcountry Safaris
P.O. Box 1397 Seward, Alaska USA 99664
1-907-222-1632 or toll-free 1-877-812-2159

**Tour Itineraries: Backcountry Safaris and other tour operators that we work with strive to give you a high quality Alaska experience. The tour itinerary shown on our web page is an example tour itinerary. The actual tour itinerary may vary some due to weather, safety, guest abilities and other conditions. Backcountry Safaris and other independent tour contractors reserve the right to change the tour itinerary and/or make substitutions at any time and without prior notice or to cancel all or part of any tour in its reasonable discretion, for the safety of its participants or due to insufficient number of participants signing up for a tour, because of weather, for the comfort and well being of our guests, for any other conditions that might affect the quality of tour, or as deemed necessary by the tour operator or trip leader. Limitations of liability: Although every precaution is taken to safeguard you and your belongings, our adventure trips involve inherent risks and dangers which are beyond our control and Backcountry Safaris shall assume no responsibility for personal injuries or deaths and loss of personal property. Due to the nature of the activities, a condition of your participation is that you will read and sign the acknowledgment and Release of Liability before the tour begins. A copy of the text is available on request.